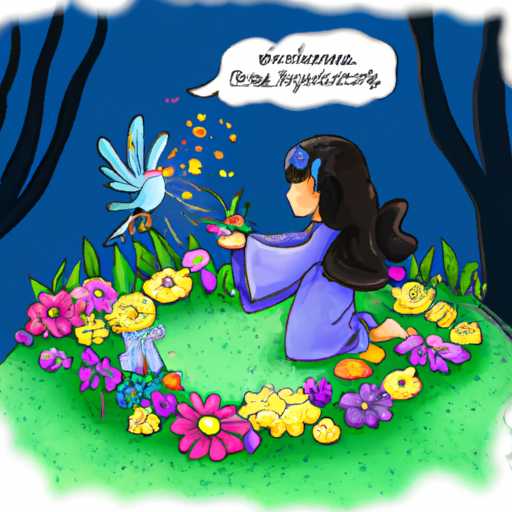 The Magical Garden
Once upon a time, there was a little girl named Mia who loved to explore. One beautiful day, she wandered far into the woods and stumbled upon a garden more beautiful than any she had ever seen before. Mia's eyes widened in amazement as she took in the sight of the colorful flowers and plants, sparkling waterfalls and hidden pathways. She felt like she had discovered a secret paradise.
As she continued through the garden, she spotted a tiny fairy sitting on a leaf, playing a harp. The fairy had delicate wings and a glowing aura. She welcomed Mia with a beautiful melody and showed her around the garden. Mia was mesmerized by the magical creatures she met along the way. She met a talking rabbit who showed her the best places to pick berries, and a group of giggling butterflies who danced around her head.
But then, Mia spotted something that wasn't as beautiful. She saw a sad and lonely unicorn who had become tangled in thorns. Mia knew she had to help the unicorn, so she used her sharp little knife to cut the thorns away. The unicorn was overjoyed and thanked Mia for her kindness.
The unicorn revealed to Mia that he had lost one of his golden horseshoes whilst roaming the garden. He had searched everywhere but could not find it. Feeling sorry for the unicorn, Mia promised to help him look for it. She asked the other magical creatures in the garden for help and eventually they found it near a hidden pond.
The unicorn thanked her and granted her a wish. Mia thought long and hard about what she would wish for. She wanted to be able to visit the magical garden whenever she wanted and to be able to help other creatures in need. The unicorn smiled and granted her wish, and Mia was overjoyed.
From that day on, Mia visited the magical garden every day. She danced with the butterflies, ate berries with the rabbit, and even sang with the fairy. But she made sure to keep a lookout for any creature in need of help. She always had her little knife ready, and her heart full of kindness. She knew she would always be welcomed in the magical garden by her new friends.
And so, Mia learned that the greatest magic is kindness and the greatest joy is in helping others.
"No act of kindness, no matter how small, is ever wasted."
---
---